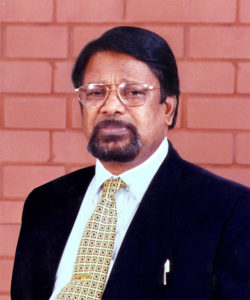 The Hindustan Group of Institutions was founded in 1968 by the Late Dr K.C.G. Verghese. Way back in the sixties, realising the need for non-formal technical education, he set up Hindustan Engineering Training Centre(H.E.T.C). Today, the Hindustan Group includes several institutions unified by the founder's vision of imparting quality education for one and all.
The vision of the group is "TO MAKE EVERY MAN A SUCCESS AND NO MAN A FAILURE". The mission is to provide every student with an environment conducive to achieve his/her career goals.
The Hindustan Group of Institutions has the reputation, state of art facilities and highly qualified staff making them a preferred choice for an education in technology , science and humanities. All these combined with values imparted by our visionary founder the late DR.K.C.G Verghese.
DR. K. C. G. VERGHESE EXCELLENCE AWARDS 2017
LIFETIME ACHIEVEMENTS
Dr. Arun Kumar Bhaduri
Distinguished Scientist & DirectorIndira Gandhi Centre for Atomic Research (IGCAR)Chennai
Dr. P. Sivakumar
Distinguished Scientist & Director, Combat Vehicles Research & Development Establishment (CVRDE), DRDO Chennai
Dr. S. Gomathinayagam
Former Director GeneralNational Institute of Wind Energy (NIWE)Chennai
Prof. Ved Prakash
Former Chairman, University Grants Commission (UGC)Government of India
Prof. Dr. N. M. Samuel
President, AIDS Society of Asia and the Pacific (ASAP)
Founder, Concern for AIDS Research and Education Trust (CARE)
Dr. Apathukatha Sivathanu Pillai (In absentia)
Founder CEO & Managing DirectorBrahMos Aerospace Private Limited.
Award received by Dr. G. Ilavazhagan, Director, Research, Hindustan University on his behalf
RESEARCH EXCELLENCE
Dr. G. Giridhar
Deputy Director General / Head (SRRA)
National Institute of Wind Energy.
Ministry of New & Renewable EnergyGovernment of India
Dr. Indrani Karunasagar
Director, R & D, NITTE University
Director UNESCO CENTRE for Marine & Medical Biotechnology
Dr. M. S. Rajadurai
President & CEO
Sharda Motor Industries Ltd.
Chennai
Mr. V. P. Premkumar
Director
NELCAST Limited
Dr. S. K. Satheesh (In absentia)
Chairman
Divecha Centre for Climate Change
Indian Institute of Science, Bangalore
ACADEMIC EXCELLENCE
Dr. Ganesh Rajagopalan
Vice President, Sukra Helitek
Professor, IOWA State University, USA
Prof. J. Philip
President
Xavier Institute of Management & Entrepreneurship (XIME)
Dr. V. Sivasubramanian
Director
Phycospectrum Environmental Research Centre (PERC)
CORPORATE EXCELLENCE
Ar. C. N. Raghavendran
Managing Director
C. R. Narayana Rao (Consultants) Private Ltd.
Dr. Srinivasan Dwarakanath
CEO
Airbus India
Mr. Kim Hyung Tae
Consul General of the Republic of Korea in Chennai
Mr. Anand Sundaresan
Vice Chairman & Managing Director
Schwing Stetter (India) Private Ltd.
Er. M. Rajamani
Chief Engineer, Highways Department
Government of Tamil Nadu
Mr. Akinori Urakawa (In absentia)
President & CEO
YASKAWA India Private Limited
Award received by Mr. Ajay Gurjar – Dy. Chief Operating Officer on his behalf
Dr. R. K. Malhotra
President, SAE India
Director General, Federation of Indian Petroleum Industry
Award received by Mr. D.Seshadri, Executive Director, SAEINDIA on his behalf
Mr. Akkineni Ramesh Prasad
Managing Director, LV Prasad Industry
Award received by Mr. Subramanium, Business Development Manager, LV Prasad Labs, on his behalf
Mr. Thomas Simon
Vice President – HR
Tata Consultancy Services
Mr. Ramesh. K. B. Menon
Director – HR & Lead Director
Murugappa Group
Mr. H. R. Mohan
Vice-Chairman, IEEE Madras Section
Former AVP (Systems), The Hindu
Mr. Vinod T. Simon
Executive Director Simmco Rubber & Plastic Private Ltd.
Chairman, Governing Council,
Rubber Skill Development Council (RSDC)
Mr. Anand Sudarshan
Founder & Director, Sylvant Advisors Private Ltd.
Chairman, Littlemore Innovation Labs Private Ltd.
Ms. Shobha Mishra Ghosh (In absentia)
Assistant Secretary General at FICCI,
New Delhi
WOMEN ACHIEVERS
Ms. Rekha Rangarajan
Director, Data Patterns (India) Limited
Ms. Zai Whitaker
Director, Madras Crocodile Bank Trust &Centre for Herpetology
Ms. Chanda Kochhar
Managing Director & CEO
ICICI Bank Limited
Award received by Mr. Thallam Sreekumar, Zonal Head, ICICI Bank, on her behalf
Ms. Arundhati Bhattacharya
Chairperson
State Bank of India
Award received by Mr. V Sasindran, DGM & Circle Development Officer, SBI Chennai on her behalf
Dr. K. R. Maalathi
Founder CEO, Auuro Educational Services
SPORTS EXCELLENCE
Ms. Anju Bobby George
World Athletic Championship
Mr. Kishore Futnani
CEO & Managing Trustee
Chennai Equitation Centre
YOUTH ICON AWARD
Mr. Girish Mathrubootham
Founder & CEO at Freshworks Inc.
Ar. Ajay Kora Mani
Chief Architect
Ajay Kora Mani Architect
Mr. Sujith Kumar
HR Business Leader, Infosys Ltd.
President, National HRD Network
Chennai Chapter
Mr. V. Srinivas Murali Mohan
Founder & CEO
Indian Artists Computer Graphics
Dr. Sanjay Cherian
Vice President
Frontier Lifeline Hospital & Dr. K. M. Cherian Heart Foundation
Mr. Rifath Shaarook
Lead Scientist, Space Kidz Program
Mr. Tanishq Dwivedi, Mr. Yagna Sai & Mr. Mohammed Abdul Kashif
Final Year Aerospace Students of Hindustan University
Mr. Karthick Naren
Film Director
Ms. Aishwarya Manivannan
Founder
MAISHA Studio
COMMUNITY DEVELOPMENT EXCELLENCE
Mr. Joseph Kottoran
Regional Director, Y's Men International
Mr. Rabi Panigrahi
Past Area President, Y's Men International