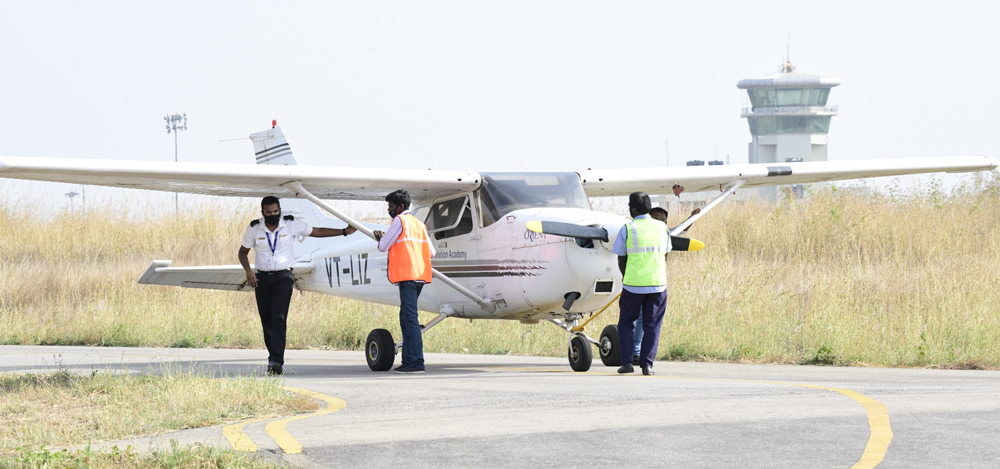 Orient Flights Private Limited (OFPL), an Approved Maintenance Organization (AMO) is one of the sister institutions of OFAA, under the Hindustan Group. OFPL has been in operation since 1994 and has been keeping pace with the changing environment of the Aviation Maintenance Regulatory field. In recent times, DGCA has brought in many regulatory changes to keep in tune with International Standards and has also recommended practices specified by the International Civil Aviation Organization (ICAO).
Approvals
Our Aircraft Maintenance Organization is duly approved under CAR 145 and CAR M sub-Part G Continuing Airworthiness Management Organization by DGCA, Govt. of India. We have full-fledged CAMO to prepare, update and to execute the required technical documents as specified by manufacturer and as per the requirements of DGCA. Additionally, we also provide services for Aircraft Maintenance & Aircraft Management.
The Engineering Department has trained and dedicated staff and well-equipped spacious hangar facilities at Mysuru Airport for reliable and efficient maintenance of the aircraft. We undertake maintenance contracts of Aircraft operated by various Non- Schedule & Private operators.
Under these approvals, OFPL is authorized to conduct annual Airworthiness Review on the following types of aircraft:
TECNAM P2006T
PIPER SENECA PA34 – 22OT
CESSNA 172 R
CESSNA 152
CIRRUS SR-22
In addition to maintaining its own fleet of aircraft with OFAA, OFPL also has the capability to take on the maintenance work for any external operator/organization.
MAINTENANCE OF CESSNA 152 AIRCRAFT FITTED WITH LYCOMING O-235 ENGINE
MAINTENANCE OF CESSNA 172 R AIRCRAFT FITTED WITH LYCOMING IO-360 ENGINE
MAINTENANCE OF PIPER SENECA PA34 – 22OT AIRCRAFT FITTED WITH CONT. L/TSIO – 360 ENGINE
MAINTENANCE OF PIPER CIRRUS SR -22 AIRCRAFT FITTED WITH CONT. IO-550 ENGINE
AIRCRAFT BATTERIES CAPACITY TESTING OF 12/24 VOLTS LEAD ACID BATTERIES
Aircraft Spares Stores
We have well equipped aircraft spares store to cater to the regular and emergency needs of the maintenance organization. We maintain a good inventory of spares to supply the maintenance organization with proper documents. We have good network with a genuine vendor to buy proper spares on time to support our maintenance. We have well stocked technical stores that have a number of special tools and advanced test equipment to support the maintenance. We have our own hangar in the operational area of Mysuru (formerly known as Mysore) with all facilities stipulated by Civil Airworthiness requirement to house and maintain the aircraft.
We follow all the safety precautions recommended by the flammable material vendor to procure and use the materials in our maintenance. We have trained staff for this purpose by the fire safety department. In addition to the above mentioned, we have the capability to maintain even a bigger aircraft especially business jets.
Expert and Experienced Engineers
Any good organization will depend on the skill-set of the human resource at its disposal. OFPL prides in having some of the most qualified Engineers and Technical Personnel on its roll. These personnel not only have the necessary qualifications and approvals, but also possess essential decades of experience in the field of Aviation Maintenance. We have well trained, experienced and rated maintenance engineers approved by DGCA of India to carry out preventive, routine maintenance and certification. We have the capability of maintaining the Light, Single, Twin Piston Engine Aircraft, Turboprops and Jet Aircraft.
Any queries for Engineering support services may be emailed to info@orientflights.com or for parts support parts@orientflights.com.